Back to all posts
Posted on
Order School Supplies with School Start Program!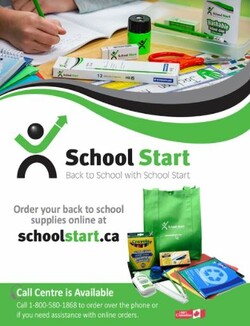 Teachers at Bashaw School are excited to offer the opportunity to purchase quality standardized school supplies through School Start for the 2021/2022 school year. This process will save you both time and money.
3 WAYS TO ORDER:
ONLINE: You can place your order online at www.schoolstart.ca
Our site is best compatible with Firefox or Chrome.
PHONE: You can call our customer service centre at 1-800-580-1868 to place your order over the phone.
EMAIL: You can print and fill out the order form and return to our office via email to: info@schoolstart.ca.

2 DELIVERY OPTIONS:

HOME: The supplies will be packaged and delivered directly to your house. If you have a P.O. Box, please use your 911 address. Because the kit (s) are delivered to your home, you will have the ability to:
Pre-label your child's supplies
Add supplies to your order for home use or for your child in another school
SCHOOL: The supplies will be packaged and delivered directly to the school in August before your child arrives, labeled with their name on the School Start Packag